You have several options to go to Sendai from Narita airport.
1. Narita Airport >> Sendai Airport (by air) >> Sendai Railway Station (Sendai Airport Line)
2. Narita Airport >> Ueno Station (by Keisei Electric railway train) >> Sendai Station (by bullet train (Tohoku Shinkansen))
3. Narita Airport >> Tokyo Station (by Narita express train) >> Sendai Station (by bullet train(Tohoku Shinkansen))
Changing trains at Tokyo Station:
Tokyo Station is one of the largest complicated stations in Japan. There are several platforms. Please look for the eTohoku Shinkansen' sing board. The platform numbers where you can take the bullet trains that leave for Sendai can be found in 20-23. The name of a bullet train you should take is Yamabiko, Hayate, Max-Yamabiko, Komachi or Tsubasa. It takes about two hours (the fastest train takes only one hour and 40 minutes from Tokyo Station to Sendai Station). Bullet trains depart roughly every 20 minutes.
Sendai Airport to Sendai Station By Train:
The train bound for Sendai City, Sendai airport line can be boarded from the Airport terminal Station attached to the airport itself. It takes about 25 minutes to get to Sendai city. It costs 630 Japanese yen. For additional details, please visit
http://www.sdj-airport.com/english/access/page4.html
From Sendai Station to Conference Venue
Welcome Reception
Date: August 1st (Sun)
Starting time: 18:00
Venue: Tohoku University Centennial Hall (Kawauchi Hagi Hall)C
Kawauchi-Kita CampusCTohoku University
Banquet
Date: August 3rd (Tues)
Starting time: 18:30
Venue: Sendai International Center
How to get to the Conference Venue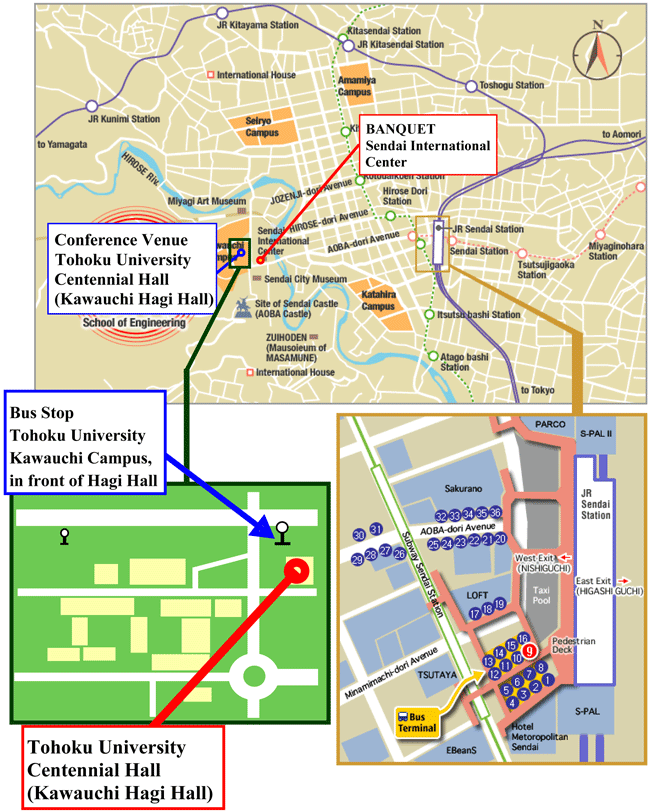 Conference Address: 40, Kawauchi, Aoba-ku, Sendai, 980-8576, Japan
By Bus for Sendai Station
Bus that leaves the bus terminal No.9 at the JR Sendai Station will take you to the conference site. Get off the bus at Tohoku University Kawauchi Campus, in front of Hagi Hall. The direction to conference site will be display at the bus stop. Buses from Sendai Station leave every 30 minutes. The journey will roughly take 15 minutes. The bus fee is 180 yen. Please pay when you get off the bus.